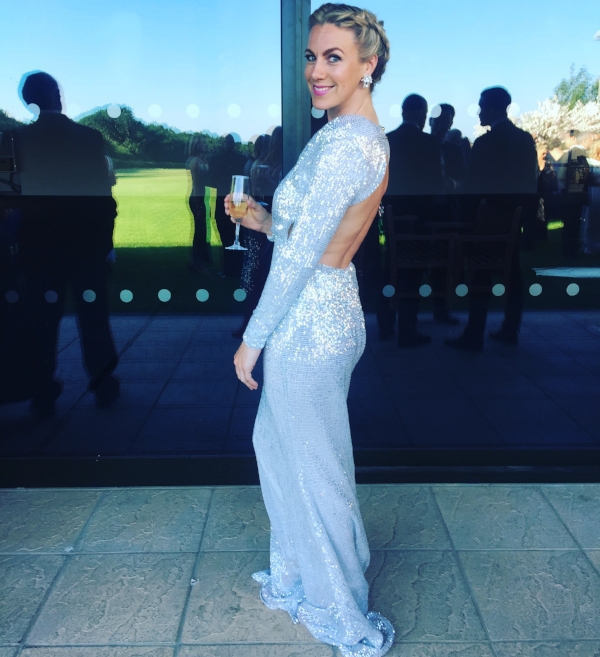 If you weren't lucky enough to make it to this year's Jersey Style Awards, worry not! I've rounded up all the glitz, glamour, drama and style for you from Jersey's most exclusive lifestyle event. Crammed with well-known celebrity names, the annual event is fast becoming the most anticipated party of our summer calendar as Islanders flock to find out just who from Jersey has award-winning style!
The creation of Dr Tess Hartmann CBE, the Awards reflect Jersey's unique culture and personality to some of the most powerful people in retail. Tess's pop/reality-tv star daughter Talia Storm was of course in attendance, hanging off the arm of rumoured boyfriend and Cheryl's ex Jean-Bernard Fernandez-Versini. The 19 year-old looked youthful in a full floral printed dress, whilst elder sister Tessie stunned in a long tulle layered dress.
Proving that sequins were truly the theme of the night, Pam Hogg made a dramatic entrance flagged by models Alice Dellal and Tuuli Shipster who wore her metallic designs. The trio high-kicked and posed up a storm for photographers, showing Islanders that they were the life and soul of any party.
After a champagne reception on the terrace as we watched the stars arrive, we were ushered in to enjoy a three course meal and to find out the results of the much anticipated Awards. The applause and joy on the winners faces proved just how prestigious these Awards have become for the Island, being the result of a public vote along with a final decision by a panel of industry judges.
Gemma Collins added her usual TOWIE drama to the evening, complaining of having to take selfies with fans as the night worn on and requesting security to shield her from the public. Much more of a delight was emerging designer Richard Quinn, who has dressed Amal Clooney for the Met Gala and had the Queen in attendance at his London Fashion Week show. Polite, humble and still relatively fresh to the harsh and unforgiving world of fashion, Richard teared up when accepting his award, so honoured to have been recognised. He was accompanied to the Awards by close friend and colleague Freya Richmond who wowed in one of his original polka dot designs.
Surprise guest Alesha Dixon proved that true style doesn't fade with age as the 39 year-old dazzled in a body con dress. She encouraged male members of the audience to join her on stage to dance as she sung a series of her hits for the crowd.
The purpose of the evening was ultimately to showcase the best of Jersey to these high profile guests and luxury brands. CEO of Prada for Northern Europe, Stefano Sutter, accepted International Brand of the Year on behalf of Prada, but don't except to see the label donning our high-street any time soon. He told me as beautiful as Jersey is, there simply wasn't the footfall to suit the design house's needs from a retail destination.
Perhaps the highlight of the evening for me was neither the dresses nor the celebrities, but getting to sit next to the Daily Mail's showbiz gossip journalist Joanne Bell, who feed me details on the latest break-ups, affairs and whose secretly gay! Joanne led me from celebrity to celebrity as she attempted to dig for dirt with a viciousness that would leave anyone slightly uncomfortable but in awe. Printing these details would surely lead to legal action, so you'll have to catch me in person if you want to know the evening's true scoop!